This shop has been compensated by Collective Bias, Inc. and its advertiser. All opinions are mine alone. #GoldfishGameTime #CollectiveBias
Is it spring where you're at? I swear we are on the cusp of warmer days and we are so excited. Last year, we kicked off spring with this fun bean bag toss game and since Pepperidge Farm® Goldfish® crackers 30 oz. cartons are now on rollback at Walmart at the exclusive price of $6.46, I knew it was time to stock up and think of a new game. For our springtime kick off, I decided to do a treasure hunt. The kids have been obsessed with them since we did one last month so I knew they would love this.
You can click on the photo below to purchase Goldfish® crackers at Walmart.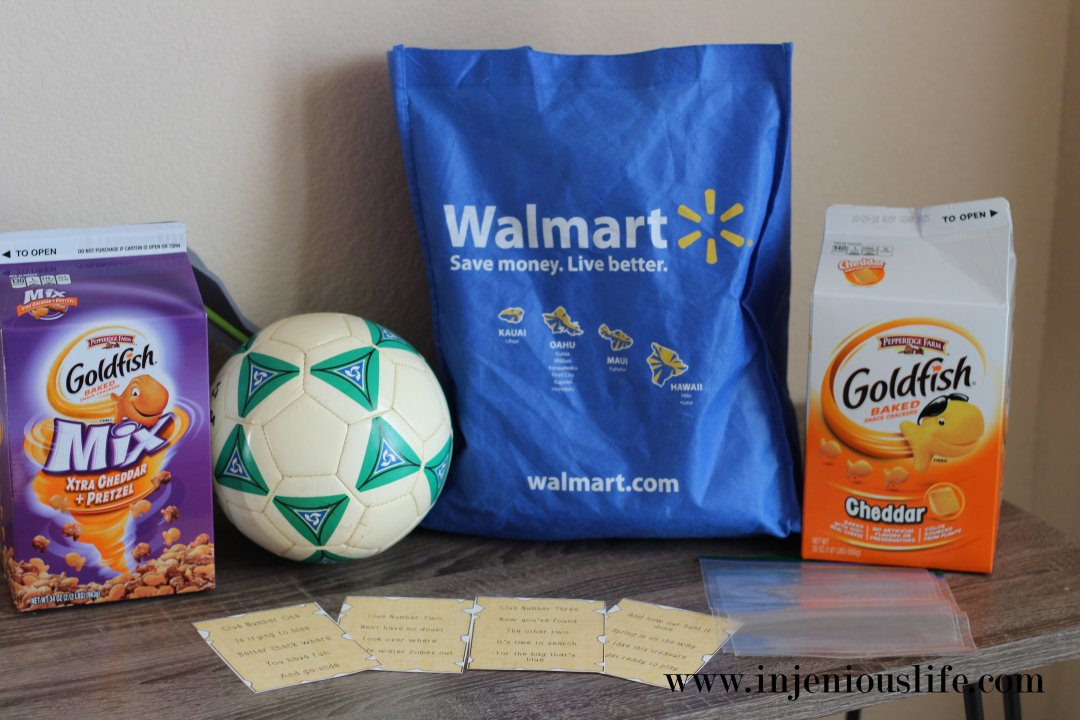 In order to do your own treasure hunt, you will need a treasure box, I used my ever faithful reusable Walmart bag, your favorite flavors of Goldfish® crackers, some sandwich bags, and your clues. Since my kids are 5 and 7, I thought I would stick to 3 clues but they blew them out of the park so next time, I think we'll double it. Each clue was placed in a sandwich bag with a Goldfish® cracker for each kid. One for clue one, two for the second clue, and so on.
I then taped the clues to in the locations using some orange washi tape. Once it was time to start the treasure hunt, I called everyone to the front room and we helped the kids read them aloud. Once I finished reading the first clue and they had eaten their first Goldfish® cracker, the race was on! The first one was easy, they knew exactly where to go and I almost couldn't keep up with them.
We grabbed the clue and read it again. This one was a little trickier but Piglet figured out that it had to be the hose station and off they ran. This was the third clue and would lead them to the final booty. The treasure was a little farther away so at first, they didn't know where to go but once they figured out where it was, there was no stopping them.
For our treasure, we focused on springtime sports. I picked up a new football and soccer ball and included them along with the Goldfish® crackers Cheddar and Goldfish® crackers Mix. The treasure hunt turned out better than I could have imagined. It got us out and moving around and they have already asked to do another one practicality every weekend since! Having Goldfish® crackers to share in the clue bags was also a deciding factor in wanting a repeat but who can blame them?
What about you? Do you have some fun spring games planned this year? I'd love to hear in the comments! You can find more inspiration here.